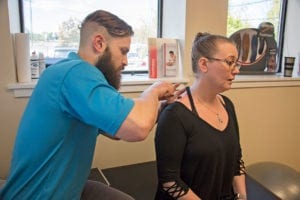 At Greylock Audiology Hearing & Balance Centers, our in-house FYZICAL® Therapy and Balance Center allows us to offer more comprehensive care for our patients.
Dr. Trevor Marcotte, PT, DPT leads the orthopedic physical therapy side of our practice. Our in-house FYZICAL® Therapy and Balance Center helps patients recover and rehabilitate from surgery, concussions, sports-related injuries, and other conditions.
We are the only center in Western Massachusetts that offers Deep Tissue Laser Therapy, a groundbreaking non-invasive pain management treatment that uses low frequency lasers to repair and restore damaged muscle tissue.
At FYZICAL®, we fix what's broken, and put you on a path for healthier living. We can help decrease your pain and restore your mobility without surgery or prescription medications.
We now sell CBD products from Miracles of Health, Muscle MX, and Rooted Apothecary.
CBD Products are available from three different manufacturers-Miracles of Health, MuscleMX and Rooted Apothecary. CBD products have become popular in past 12-18 months and are being used to promote whole-body health. Some of the conditions that benefit from CBD include anxiety, arthritis, Parkinson's Disease, digestive problems including Crohn's disease and diverticulitis, promotes better sleep patterns, to name a few.