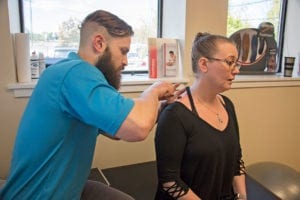 At Greylock Audiology Hearing & Balance Centers, our in-house FYZICAL® Therapy and Balance Center allows us to offer more comprehensive care for our patients.
Dr. Trevor Marcotte, PT, DPT leads the orthopedic physical therapy side of our practice. Our in-house FYZICAL® Therapy and Balance Center helps patients recover and rehabilitate from surgery, concussions, sports-related injuries, and other conditions.
We are the only center in Western Massachusetts that offers Deep Tissue Laser Therapy, a groundbreaking non-invasive pain management treatment that uses low frequency lasers to repair and restore damaged muscle tissue.
At FYZICAL®, we fix what's broken, and put you on a path for healthier living. We can help decrease your pain and restore your mobility without surgery or prescription medications.